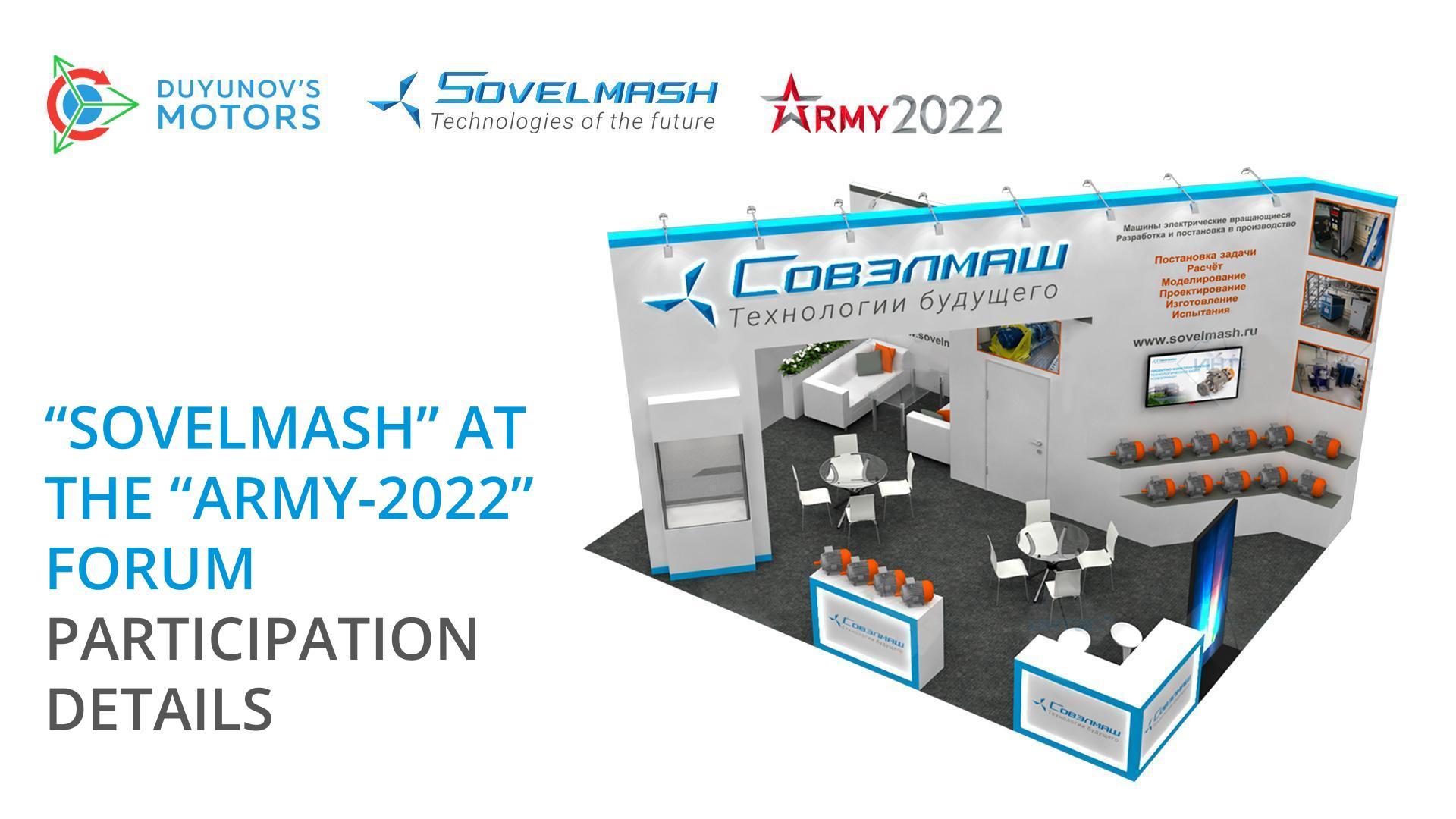 "Sovelmash" at the "Army-2022" forum: participation details
15 Август 2022
One of the largest military and technology forums in the world "Army-2022" will be held from August 15 to August 21 inclusive in the Moscow region.

It will be attended by companies from dozens of cities in Russia, as well as from other countries: China, India, Iran, Thailand, Belarus.

"Sovelmash" will demonstrate two booths with its innovative developments. You will be able to see the exhibits and get answers to your questions from the company's specialists.

How do you find us at the "Army-2022" forum?

One of the "Sovelmash" booths is located inside Hall C, numbered 3B6-3. It will feature:

• general purpose industrial and traction electric motors with the "Slavyanka" combined winding,
• built-in electric motors for hand-held power tools and household appliances, as well as power tools and appliances themselves,
• a gearless winch with an induction motor.

The second booth is located opposite the hall entrance, in the open area O3, numbered 3O8. The "Sovelmash" mobile laboratory based on the BTR-80 armored personnel carrier will be located here, created for testing electric drive systems on different types of vehicles, including refining a hybrid power supply system.

You can find the map of the halls and booths by following the link.

Three of the mentioned developments have been included in the top 10 innovations of the forum according to the high-priority official media sponsor of "Army-2022" - the Mil.Press Military news agency.

Please note that mass attendance at the forum will be open from August 19 to August 21 inclusive.

Information about the tickets and the venue can be found on the official website of "Army-2022" by following the link.

We will be happy to see you at the "Sovelmash" booths!