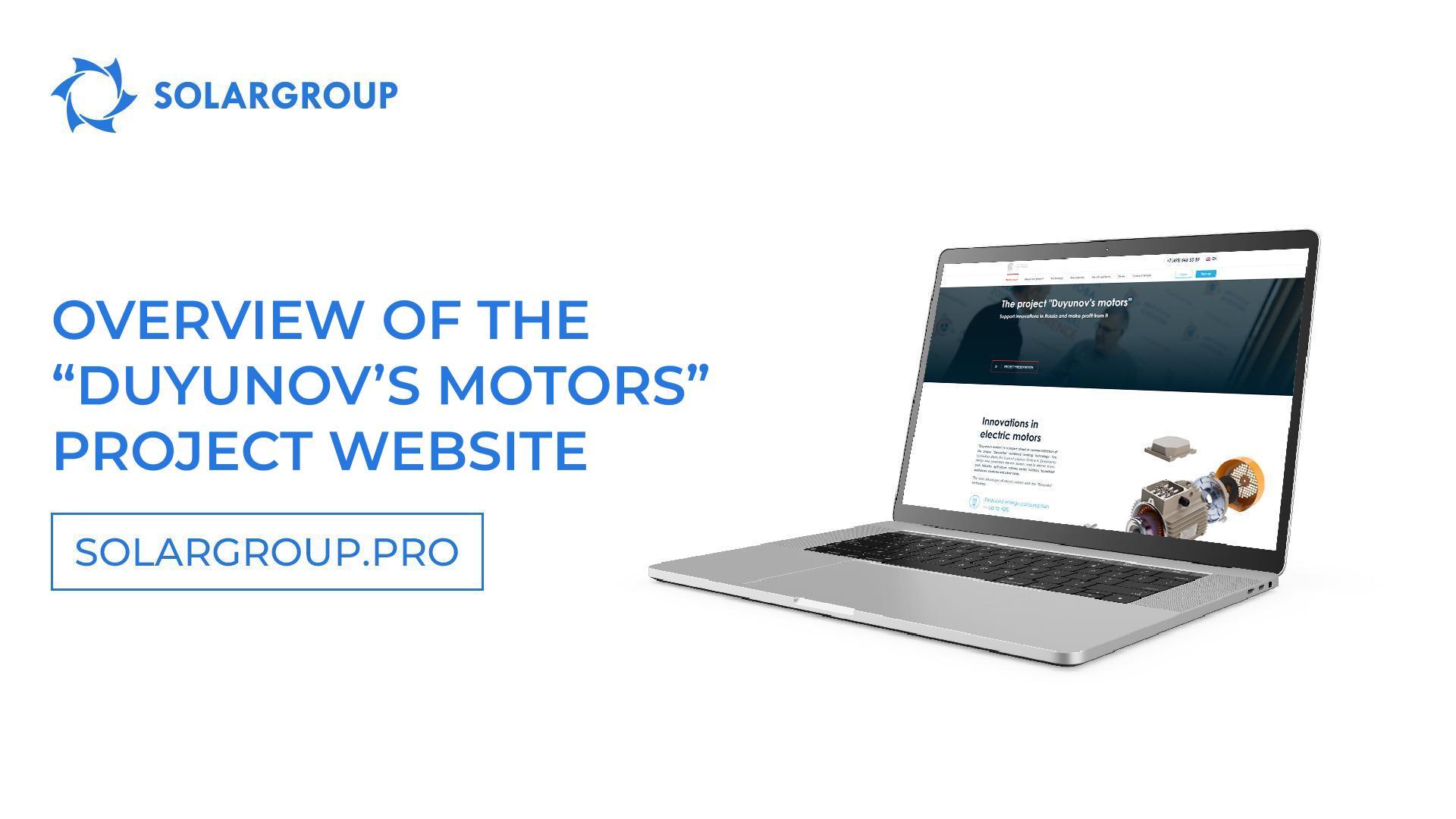 About the benefits of the "Duyunov's motors" project website
01 Декабрь 2022
Haven't visited the official website of the project "Duyunov's motors" for a while? Here's how the https://solargroup.pro/ru resource, which we updated in 2022, is useful for old-timers and newcomers to the project.

Up-to-date information about the project

Check the "About the Project" page and you'll find out about:

• the project's tasks,
• participating companies,
• "Sovelmash" D&E construction progress.

There you will see the "Sovelmash" documents and links to media coverage of the project and the company.

You will get answers to the following questions.

• How will "Sovelmash" and the project investors earn?
• What funding stages have been completed? The timeline and highlights of each stage.
• What has been done using the investment raised?

Information about the "Slavyanka" technology

The "Technology" section describes the features of "Slavyanka" and the advantages it offers to electric motors. Many examples of practical applications for combined winding motors are posted there. Here you will see the "Sovelmash" patents, results of testing the motors in laboratories all over the world, and TV reports about the technology.

Project news and event announcements

In the "News" section, all the project news and announcements are posted and they are available to all users.

In addition, the website has the "Investment" section to help understand what investors buy and how they will make money. Here you can find out how the stage discounts have changed and see video reviews from investors.

The "For Partners" section covers the terms and conditions of SOLARGROUP partner program. You will learn how to make money in the project now by promoting the technology.

The "Contacts" section contains legal information about SOLARGROUP and contact details of the technical customer support service.

Dear partners, please note! If you want to share a referral link to any section of the website, you need to:

• copy the partner code, which can be found in the back office, "For Partners" section - "Tools" - "Referral links";
• insert the code at the end of the website link.

The website is translated into 22 languages. Use the opportunities it offers to learn more about the project and share information with new members!