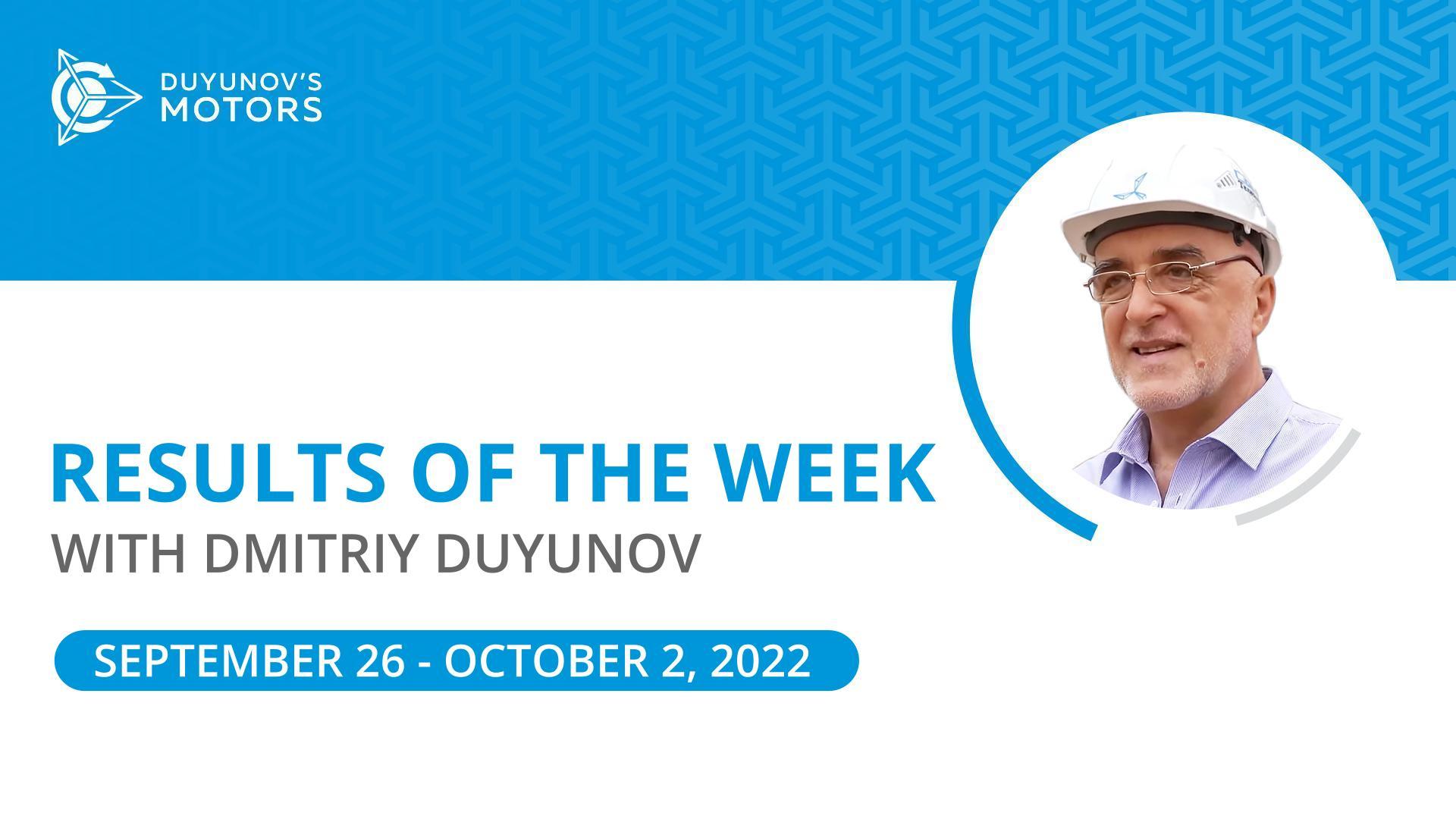 Results of the week in the project "Duyunov's motors"
02 Октябрь 2022
Concrete construction to pour the first-level floor of the "Sovelmash" D&E building is progressing at the fastest pace imaginable.

Last week the builders finished waterproofing the first floor.


Pouring the protective layer in the office and amenity building was completed.

Several "maps" were fully completed in the production building, including the finish coat for them.

The construction workers began removing the remains of panels and materials from the third floor of the "Sovelmash" D&E.

Electric heaters were installed and connected in the utility rooms along the perimeter of the production building in case the outside temperature drops.

The foundations for the transformers are ready; the foundations for the switchgear box are ready to be cast.

The concrete casting of the loading ramp, where materials will be unloaded and finished products will be loaded, is being done at a rapid pace.

The main concrete construction work is scheduled to be completed by mid-October. Every effort is being made to speed up the construction and prepare the building for winter. To maintain this momentum, we need investor support, including timely installment payments.

In China, mass production of the Cafe Racer type electric motorcycle with a DA-95S "Slavyanka" based motor by ASPP Weihai has started. Thanks to the advantages of the "Slavyanka" based motor, the electric motorcycle reaches a maximum speed of 110-120 km/h and can go 150 km without recharging - which is enough for motorcycles of this racing class. The electric motorcycles will be shipped to different countries.

On September 29, Jinan City, Shandong Province held a solemn meeting to celebrate the 73rd anniversary of the People's Republic of China. The head of ASPP Weihai and partner of "Sovelmash" Victor Arestov had been invited to it. The meeting was attended by high-ranking officials: Communist Party Secretary of Shandong province Li Ganjie and Governor Zhou Naixiang. The guests included representatives of foreign embassies and executives of companies that had made a special contribution to the economic and social development of Shandong Province. Victor Arestov's participation in such a high-level meeting is a sign of the Chinese government's attention to his activities and the "Slavyanka" technology.

The first offline SOLARGROUP conference in 2 years will be held in Indonesia. It will take place on October 22 in Surabaya. Top managers of SOLARGROUP will personally participate in the event: Commercial Director Pavel Shadskiy and Head of Advertising and Public Relations Pavel Filippov. As well as the national representative of SOLARGROUP in Indonesia Laura Guinta.

Follow our news to stay informed about the development of the project "Duyunov's motors".

Are you a newcomer and want to get a better understanding of the project? Check out our selection of materials for newcomers.