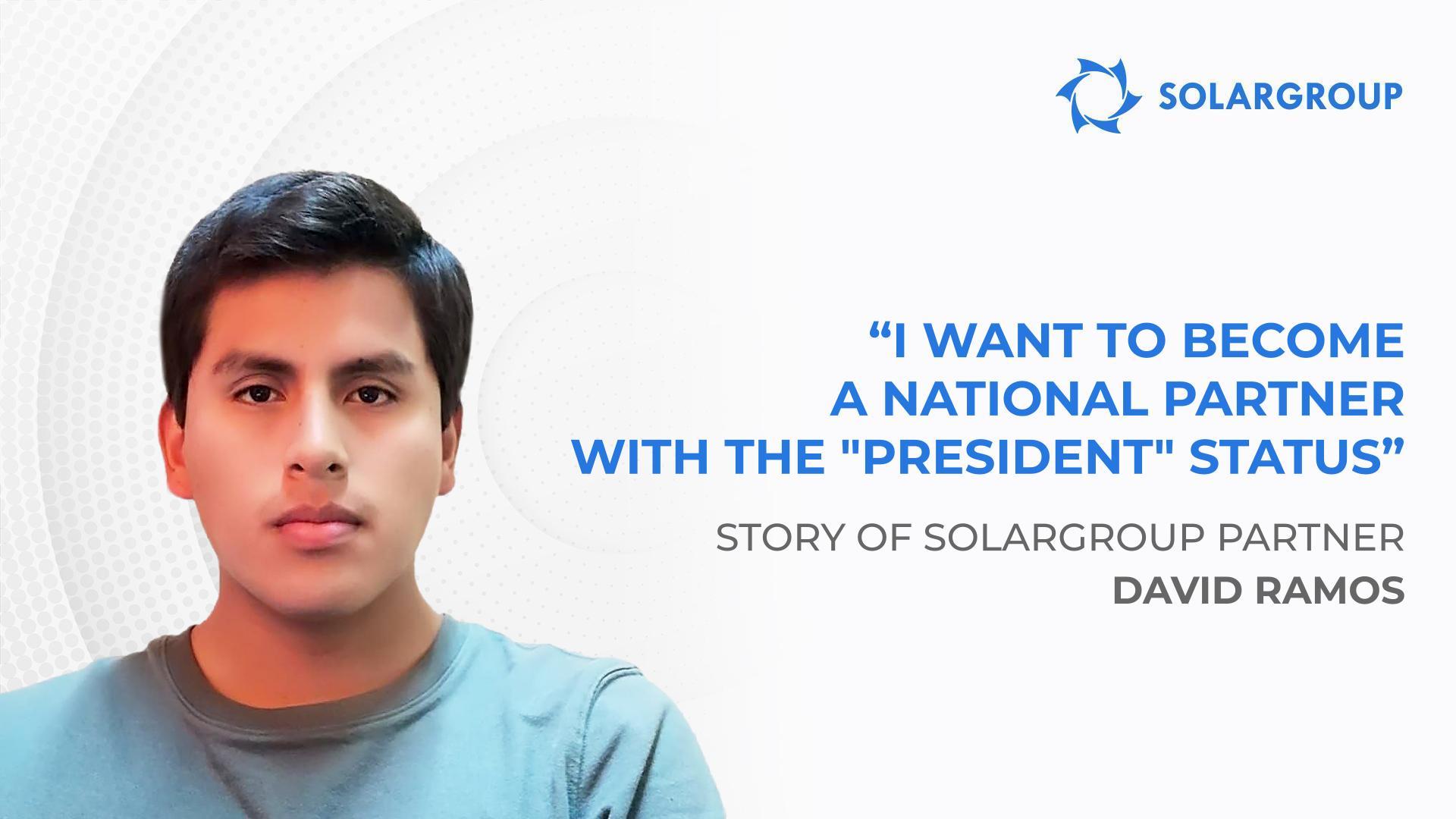 I want to become a national partner with the "President" status | Story of partner David Ramos
27 Июнь 2022
Hi! My name is David Ramos, I live in Peru and I am a partner at SOLARGROUP. I am a student, in the future I will get a degree in Administration.

I used to work in the field, getting 800 new soles a month. It was enough for pocket money. And I wanted to be able to pay for my education, to learn financial literacy.

No one invited me to SOLARGROUP, I found information about it on Instagram in 2021. The information contained a suggestion to contact technical support. I got in touch, learned a lot of interesting things and decided to build my own partner network. And now I have the "Master" status!

I was impressed with the "Slavyanka" technology; I think it has many advantages over other technologies. There is nothing like it on the electric motor market - that was a key factor in my decision to join the project.

I wanted to find someone to help me learn more about the business, so I went to Lima to meet the company's national representative in Peru. Today I stay in touch with him and organize small conferences to attract more partners to the company.

It took some time to learn as I sought to develop and boost my status as a partner. The video conferences that the company held in my native language helped me with this.

In the beginning I made a mistake by shaping my partner structure incorrectly. But now I know how to do it better, I help everyone, so that everyone can enhance their status and thus be among the leaders of the structure.

The results became visible after a few days, as I got good investors.

Now I'm preparing my own working tools to get my message across more effectively.

I reached the "Master" status in one month, I was supported and motivated by my parents, and now I feel capable of reaching the "Expert" status.

The biggest obstacle to my work seemed to be the pandemic. After all, you should have meetings with people, and that's difficult because of the restrictions.

I worked two hours a day in my little office that I rented for it.

Now the amount of my referral remuneration amounts to 800 dollars. I participate in SOLARGROUP events held in my country to engage more people dealing with machinery and get them interested in the motors.

I joined the company myself, made the decision to take the risk myself, and it worked out great. It really stimulates me to move forward, gives me confidence. I feel capable of surpassing my goals.

I want to become a national partner with the "President" status.

I am inspired by our national partner in Peru, Massimiliano Vivian Rossini, I want to be like him. I am in frequent contact with him to make "Duyunov's motors" and SOLARGROUP known throughout Peru.

I'm glad to be part of the company and I want to become even more informed and be able to get more privileges.

I like the opportunity to become part-owner of a promising enterprise.

I am grateful to my team for their support, which gives me confidence in achieving my goals successfully. I aspire to be a good leader for them.